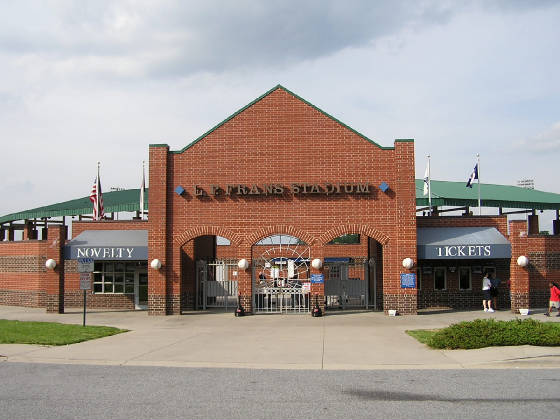 TEAM ::: HICKORY CRAWDADS
LOCATION ::: HICKORY, NORTH CAROLINA
MY FIRST VISIT ::: MAY 16, 2005
OPPONENT ::: LAKE COUNTY CAPTAINS
LEVEL ::: SOUTH ATLANTIC LEAGUE (A)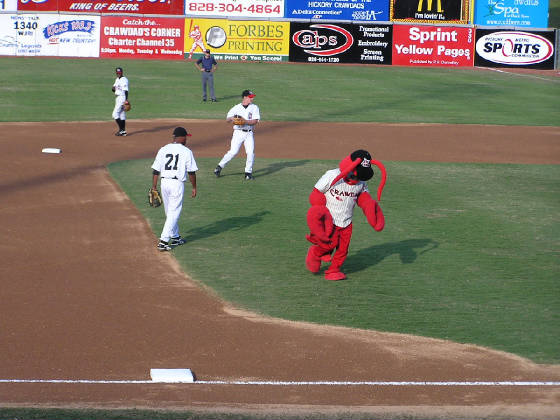 RATINGS

BALLFIELD ::: C
SCOREBOARD ::: B
FOOD ::: C
FACILITIES ::: A
TEAM WEB SITE ::: B
MASCOT ::: C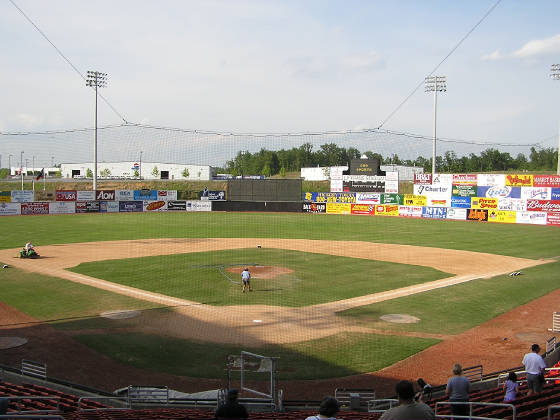 MY TAKE ON THE PARK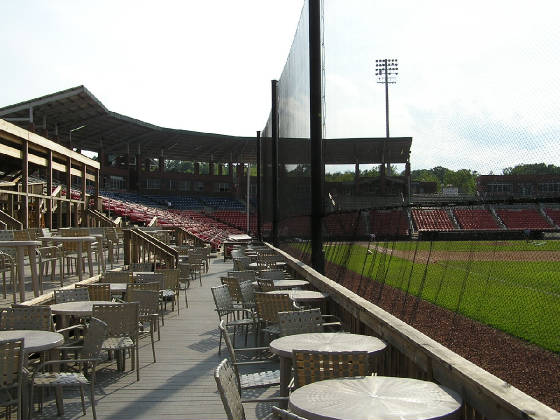 SET DOWN ABOUT 1/4 MILE OFF OF THE HIGHWAY OVERLOOKING A SPACIOUS PARKING LOT SITS L.P. FRANS STADIUM. FROM THE LOT, THIS PLACE LOOKS
GREAT WITH THE BEAUTIFUL BRICK ENTRANCEWAY, ONCE INSIDE, MORE BRICK AND AN AVERAGE COMFORTABLE PLACE TO SEE A GAME.

WHAT STANDS OUT HERE IS THE BRICK. FROM THE ENTRANCEWAY TO THE PRESS BOX
TO THE PILLARS HOLDING UP THE ROOF, THE PLACE WAS BUILT WITH RED BRICK.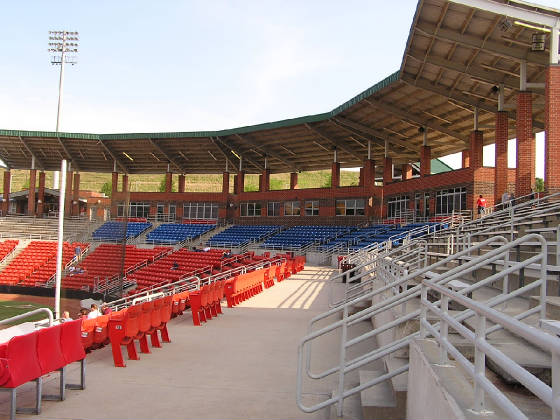 THROUGH THE TURNSTILES ONTO THE CONCOURSE, YOU WALK DOWN INTO THE SEATING AREA WHERE THERE ARE 3 SEATING CHOICES. THE VERY COMFORTABLE BOX SEATS WITH A CUP HOLDER, SIX RESERVED SECTIONS BEHIND HOME PLATE WHICH ARE THE BUCKET SEATS, AND DOWN THE LINES ARE METAL BENCHES W/ BACKS.
FOR PARTIES, THERE IS A PORCH BEYOND THE DUGOUT ON THE FIRST BASE SIDE.
THE CRAWDADS HAVE FIGURED THAT PEOPLE WILL BE BUSY HAVING A GOOD TIME HERE AND MAY NOT BE 100% ON THE GAME, SO THEY ADDED A NET DOWN THE LINE PROTECTING THE FANS.
AFTER SEEING PEOPLE GET HIT WITH A LINE DRIVE
IN THE STANDS, I CAN SEE THIS COMING TO MORE BALLPARKS.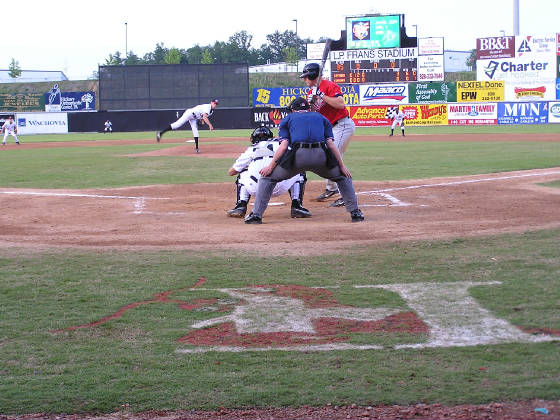 A TRIP TO HICKORY IS WORTH WHILE IF YOU ARE IN THE AREA AND WANT TO SEE A GAME. OF
THE NORTH CAROLINA PARKS I HAVE VISITED, HICKORY'S PLAYING FIELD WAS THE MOST NEGLECTED BUT THE FANS ARE REALLY INTO THE GAME AND MAKE IT EXCITING SO THERE IS A LOT MORE ATMOSPHERE HERE THAN SOME OF THE OTHERS.
THE FRILLS ARE LIMITED BUT THEY PROVIDE PLENTY OF $2 PARKING ALONG WITH A FRIELDLY STAFF.