TEAM ::: KANNAPOLIS INTIMIDATORS
LOCATION ::: KANNAPOLIS, NORTH CAROLINA
MY FIRST VISIT ::: MAY 17, 2005
OPPONENT ::: DELMARVA SHOREBIRDS
LEVEL ::: SOUTH ATLANTIC LEAGUE (A)


RATINGS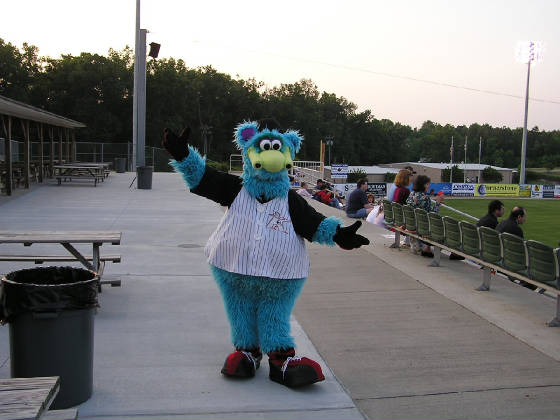 BALLFIELD ::: A+
SCOREBOARD ::: B
FOOD ::: B
FACILITIES ::: A
MASCOT ::: A-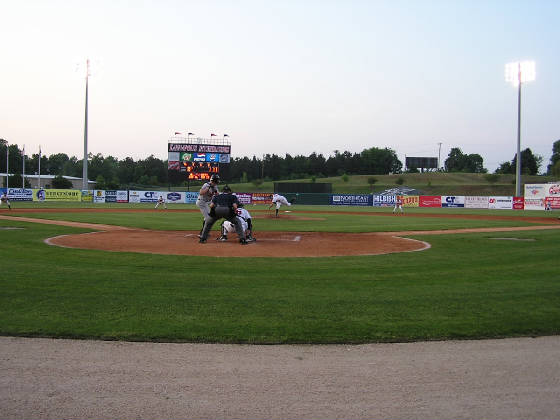 MY TAKE ON THE PARK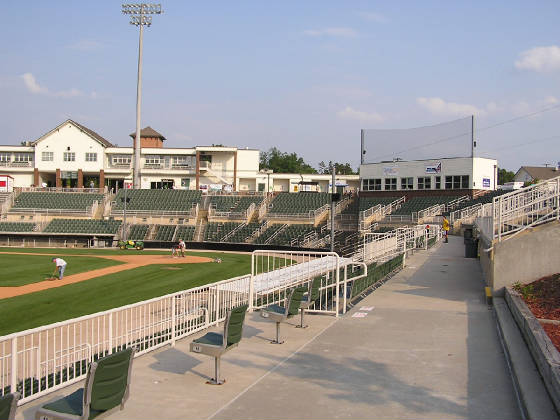 AFTER A 1/4 MILE DRIVE THROUGH THE WOODS YOU EXIT ONTO A HUGE FIELD OF BLACKTOP WITH A SMALL STADIUM OFF IN THE DISTANCE. THE GATEKEEPER OF THIS LOT TAKES $1 AND RETURNS TO YOU A GAME TICKET WHICH HAS PRINTED ON
IT "PARKING PASS" ... THIS IS CURRENTLY MY FAVORITE PARKING LOT TICKET.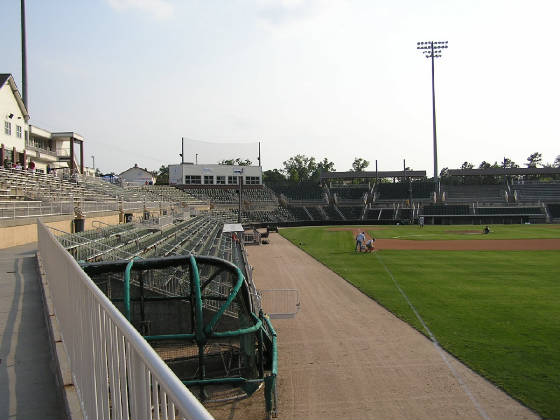 ENTERING THE STADIUM YOU ARE ONCE AGAIN REMINDED YOU ARE IN THE SOUTH BY THE BIG FRIENDLY GREETING YOU RECEIVE BY EITHER THE PROGRAM VENDOR OR THE SODA VENDOR.
BEHIND THEM IS A DIFFERENT LOOKING STADIUM FROM THE COLOR SCHEME TO THE HOUSE LIKE STRUCTRUE, AND ALL OF THE BARS IN THE SEATING AREA.
THE SEATS HERE ARE A LIGHT GREEN COLOR AND ARE THE SAME ONES THAT THEY HAVE IN READING,PA.
BEHIND THE CONCOURSE ON THE FIRST BASE SIDE ARE THE SUITES WHICH DUE TO THE SIDING, LOOK LIKE A HOUSE OVERLOOKING THE FIELD.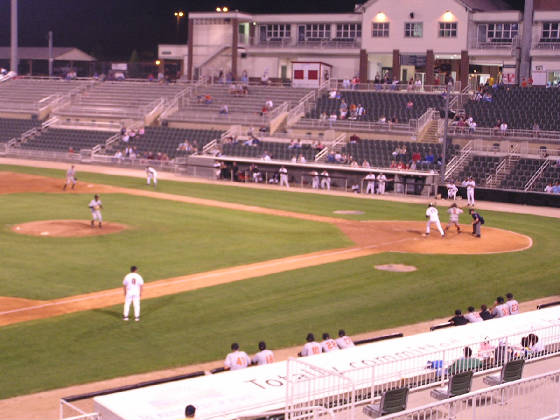 THE CONCOURSE LEVEL IS VERY WIDE AND CAN HANDLE LARGE CROWS AND VENDORS, AS WELL AS A FEW KIDS RUNNING AROUND.
DOWN THE FIRST BASE SIDE IS A PLAYGROUND FOR THE KIDS, CALLED THE "PIT STOP" A REFERENCE TO THE FORMER OWNER'S GAME.
ON THE THIRD BASE SIDE IS A PICNIC AREA WHICH IF THERE ISN'T ONE GOING ON GIVES A LARGE CONCOURSE EVEN MORE SPACE.

KANNAPOLIS IS A GREAT PLACE TO COME SEE A GAME. IT REALLY IS WHAT THE MINOR LEAGUES ARE ALL ABOUT, A FAN FRIENDLY PRICE ALL THE WAY AROUND, GOOD FOOD, AND CHEERWINE IS SERVED.
THE SEATS ALL HAVE CUP HOLDERS BUT THE SUN SETS BEHIND 3rd BASE SO SITTING ON FIRST WILL PUT YOU IN DIRECT SUNLIGHT UNTIL IT SETS.

ONE OR TWO EXITS PAST THE STADIUM IS THE EVERYTHING AREA OF KANNAPOLIS.
HOTELS, FOOD, AND WAL*MART ALL IN THE SAME PARKING LOT.
THE HOLIDAY INN EXPRESS IS A GOOD CHOICE IF YOU NEED A PLACE IN KANNAPOLIS.
ALSO, IF PASSING THROUGH LEXINGTON, NC ENOUGH CANNOT BE SAID ABOUT THE LEXINGTON BARBECUE ON ROUTE 29. A FANTASTIC PLACE FOR LUNCH OR DINNER.

THE LINE UPS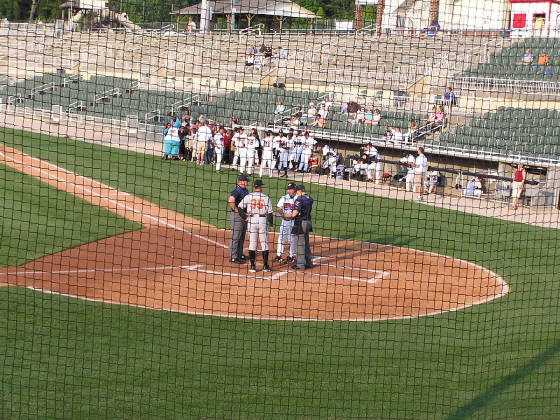 DELMARVA SHOREBIRDS MANAGER :::
# 35 Gary Kendall

KANNAPOLIS INTIMIDATORS MANAGER :::
# 8 Nick Capra

DELMARVA SHOREBIRDS

19 Pete Maestrales lf
7 Francisco Guerrero 2b
22 Jason Fransz dh
32 C.J. Smith 1b
8 Quincy Ascencion rf
9 Matt Houston c
31 Miguel Delacruz 3b
15 Arturo Rivas cf
3 Denver Kitch ss
14 Carlos Perez p
11 Carlos Jan LP

KANNAPOLIS INTIMIDATORS

12 Sean Smith cf
6 Jose De Los Santos 3b
39 Bernie Gobzalez dh
19 Josh Hansen rf
24 David Cook lf
16 Adam Ricks c
15 Javier Castillo ss
27 Chris Kelly 1b
2 Ryan McCarthy 2b
22 Ray Liotta p
32 Michael Moat WP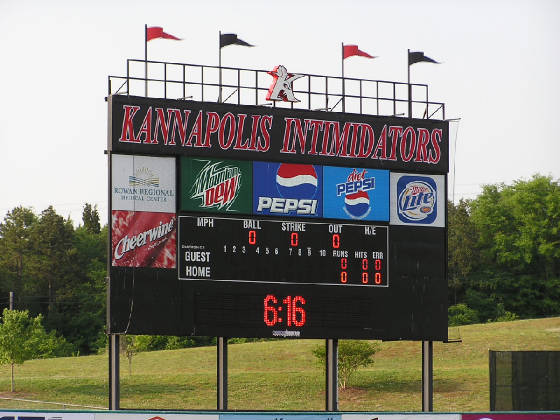 SHOREBIRDS 001 013 000 5 7 1
INTIMIDATORS 020 024 10x 9 13 4

TIME ::: 2:55
ATTENDANCE ::: 841
WEATHER ::: 73 CLEAR / PERFECT


SEND ME AN E-MAIL

LINKS
The Official web site of the Kannapolis Intimidators
A nice place to stay on your visit to Kannapolis
Another Link about the Lexington Barbecue
Kannapolis weather from WEATHER.com